When I looked in the mirror this morning, I noticed that my hair is going pretty grey! Soon I will be unable to move among the young because they will find me out and tar and feather me. I would move to a lighthouse right now if I only had the money (in order to see out my old age in dignity and seclusion) but property prices prevent such drastic measures. So I suppose I had better go to the chemist and get one of those products I have seen advertised all my life. You know what I am talking about. No not
suicide pills!
Now sure,
Just For Men
is the market leader. You kind of slop it on your head and suddenly a lady touches your dyed, lying hair because you are Young Again. But what about the classic alternative -
Grecian 2000
!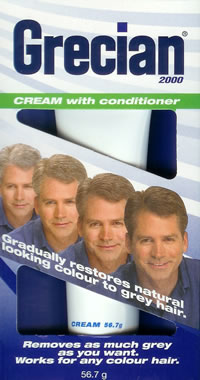 Grecian 2000 comes in a tube so I guess if I felt self-conscious and old in the street I could keep it in my pocket and whip it out for a topical application.
Of course the other option is to go peroxide blond. It's fashionable, hip and so hot right now. See below:
This is a difficult time for me, so I hope you can help me decide how to grow old gracefully. And don't laugh at me! This will be you one day, decrepit and feeble!
PS I find wigs and hats itchy so they are out.